March 28 & 29, 2018 – Edmonton Speaking Events
Timothy Taylor at Audreys Bookstore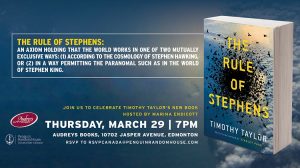 (For more information, or to share the event, visit the Audreys Facebook Event Page here)
DATE: Thursday, March 29, 2018
TIME: 7 pm
LOCATION:
Audreys Bookstore
10702 Jasper Ave.
Edmonton, AB

___________________________________________________________
Canadian Authors Series: Timothy Taylor
MacEwan University
DATE: Wednesday March 28, 2018
TIME: 3 pm – 4 pm
LOCATION:
MacEwan University
Room 6-252
City Centre Campus
10700 – 104 Avenue
Edmonton, AB
Join Timothy as he reads from his works at this free and open to the public event.
Timothy Taylor is a bestselling and award winning author of seven book-length works of fiction and nonfiction. Taylor's first novel Stanley Park was released to critical acclaim in 2001 and was nominated for a Giller Prize, a Rogers Writers Trust Fiction Prize as well as both a Vancouver and BC Book Award. His most recent novel, The Rule of Stephens, has just been published by Doubleday Canada.
Taylor has also been a prolific journalist and features writer, publishing in The Wall Street Journal, The National Post, EnRoute, Walrus, 18 Bridges, The Report on Business Magazine, Vancouver Magazine and many others. His most recent nonfiction book, published by Nonvella (2014) in Vancouver, is Foodville, a food memoir and meditation on foodie obsessions in western consumer culture.
An associate professor in UBC's Creative Writing program, Timothy Taylor lives in Point Grey, Vancouver.
____________________________________________________
Timothy Taylor at University of Alberta, Augustana Campus
DATE: Thursday, March 29, 2018
TIME: 12 pm
LOCATION:
University of Alberta,
Augustana Campus,
4901 46 Ave
Camrose, AB
Timothy will be speaking to a group of students at University of Alberta, Augustana Campus.