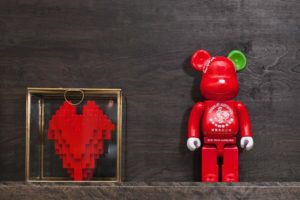 When Chef Michael Robbins auditioned for Top Chef Canada, he stressed in his audition video that he was an "extremely competitive person", like a promise of what might come. All the more painful an irony that he ended up cut first, before even preparing a complete dish. That was a loss for the judges and show. I was convinced of that at the time, having eaten at the Oakwood Canadian Bistro, where Robbins had a relaxed neighborhood room that still produced plates with high-volume flavours and high-wire techniques.
I'm even more convinced now, having eaten at Robbins new place in Kits AnnaLena (named for his two grandmothers). There's a playful and welcoming quality to this room too: rec-room chic bar, Lego light fixtures, Darth Vader alarm clock, casual but attentive service. Robbins himself has described his food as Modern Comfort Food. But cast your eyes upwards and note a crucial detail: high on a shelf, as if to say that direct reference to them is no longer required, a copy of the NOMA cookbook and all five volumes of the 2500 word mega-gastrotech-tome Modernist Cuisine.
That's your cue that dinner will likely be more modern than comfort. And while I am almost invariably more comfort than modern myself, Robbins has nailed it at AnnaLena. Every plate pushed the boundaries, and in almost invariably the right way.
We started with a table of small plates. The grilled octopus is first sous vided, giving each bite a creamy tenderness with a background note of char. Finished with fingerling potato, sauce gribiche, dill fronds and lobster mayonnaise, it's an umami wow. The buttermilk fried chicken has a similar complexity, with the twice-fried chicken thighs perfectly cooked, combining crunch with a sharp sweetness from the horseradish maple aioli, and the fantastic finish from salt and vinegar chicken skins. Every time I looked up, it seemed that three more of these were on the pass and whisked away. I sense a neighborhood standard being born.
Other small plates evoked that same approachable inventiveness. Cured tuna is combined with crisp sweetbreads, papaya salad with puffed wild rice, all this nestled down in a lime coconut broth with cilantro oil. Combine with wild garlic torn sourdough for dipping and there's a taste of what modern comfort means.
None of these plates overly genuflect to their localness, an interesting choice on Robbins part at this moment in culinary history. But there was a spot prawn special. And Robbins had them whole peeled, tossed with pickled jalepenos, black garlic, toasted sesame seeds and nasturtium leaves. It's a neat trick to pull off the overlay of saline ocean flavors with earthy and peppery notes. Great dish.
The larger plates extended these themes. Wagyu short rib is sous-vided and seared, served with peppercorn jus over sun choke puree, with peas, sun choke chips, radish and pea shoots, and tiny potatoes carved into tinier mushroom shapes, proving someone is still rocking the old school techniques back there. And if there were a climax to the meal, I'd name the pork belly. A potential gastro-cliché, here it is gets the Robbins treatment and is artful, surprising and complexly delicious from beginning to end. The grilled pork belly is marinated for 24 hours in tamari and served with roasted beets and pickled mustard seeds. And in a nod – unwitting or otherwise – to the similarly personal and innovative spirit of Dave Gunawan's Farmers Apprentice, Robbins here elects to bind the elements of the dish with an oat porridge. What sounds horrifying is warmly comforting indeed.
Don't skip desserts, because this team can do sweet with the same sensibility as the plates described above. Black pepper thyme ice cream is superb with the texture of nut crumble and meringue, and a spike of acid from the rhubarb compote and rhubarb gel. The salted caramel ice cream will be too salty for some – it was for me, not for my son who licked the plate – but combined with the chocolate custard, the sponge toffee and the lemon/bitter chocolate dust, you get again that surprising roundness in every bite for which this kitchen will soon be well known.
In another cooking show called My Kitchen Rules, the Australian judges like to comment on whether the dishes served really rose to the standards of a "competition dish". For a guy who didn't get his due on Top Chef, Robbins is knocking out exactly that at AnnaLena. Each dish vying for the top of the list.