The Polygon Gallery by Patkau Architects
Written for Azure Magazine
Situated at the foot of North Vancouver's Lonsdale Avenue, the striking new home of the Presentation House Gallery, a well-known local art space, is perhaps the most dramatic architectural gesture to be made on that stretch of British Columbia coastline since the opening of the Lonsdale Quay itself. Now called the Polygon Gallery, the building was designed by Patkau Architects (the husband-and-wife practice with a host of museum, library and other cultural projects under their belt) and is named after Polygon Homes (a property development firm and sponsor of the gallery). Appropriately enough, its inaugural exhibition, the magnificent show N. Vancouver, which runs through the end of April, consists of existing and commissioned works that ruminate on the shifting identity of the locale in which it sits.
For readers unfamiliar with the area, the waterfront in North Van, as it's invariably known, has historically been industrial, the creosote-stained home to tugboat-maintenance facilities and fish packing plants, operations that at their peak depended on access to the bustling port waters of Burrard Inlet. (North Vancouver, a separate municipality of just under 53,000 people, sits across the inlet from Vancouver proper.) That's mostly gone now. The North Van waterfront has shifted in focus to residential, retail and entertainment interests in which Polygon Homes has more than a passing interest. The gallery was designed specifically to sit at that most visible of our contemporary cultural intersections: the sonorous retreat of a sepia-toned history missed only in the abstract and the clamorous advance of an over-priced present that is frequently dreaded in its concreteness.
That makes for an architectural challenge that could be approached any number of ways. The City of North Vancouver, who donated the waterfront land, could have found its Baron Georges- Eugène Haussmann to entirely reimagine the area. But that's not how we do things at this particular moment in architectural post-modernity. At this moment we strain to remember what once was (tugboats, canned salmon, affordable housing). And in paving over that which now appears irrevocably lost, we erect structures that self-justify with a guilty backwards glance.
When I asked John Patkau about this contemporary impulse, he good humoredly acknowledged it, noting that they had resisted the municipality's original request to put up a history-themed mural on the north face of the building. "I would argue that this building isn't historisist. It's modern but acknowledges history," he said.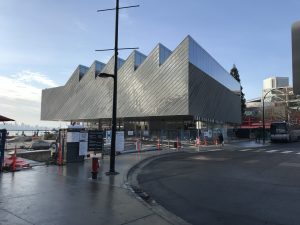 In the case of the Polygon Gallery, this acknowledgment begins with the sawtooth roof. Gallery designers have used these before, of course. (The gorgeous Newport Street Gallery in London, by Caruso St. John Architects, has them.) And they make sense for the same reason they made sense for industrial applications: North-facing vertical glass panes provide for an even distribution of high light without shadows.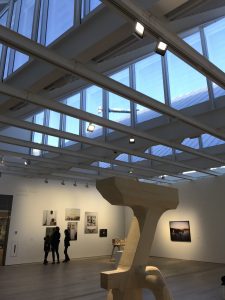 In the Polygon, the effect is a luminous blue that hovers in the airy spaces above the main exhibition space, light that serves the art without competing. The exterior cladding is a similar gesture: Open mesh metal grating used typically in nautical decking is applied here in a pattern that compliments the sawtooth roofline and makes reference to the nautical history of the site. If the vertical situation of these familiar textures is disorienting – as it was to this ex-Navy man who has only ever seen this material underfoot – the impact is compensated for by the reflective aluminium that's mounted beneath and shifts in colour from slate blue to a deep and burnished green, much like the sea changes colour in different kinds of weather.
In these two features is captured what an architect friend referred to as a likeable "crispness" to the Patkaus' structure. There is a completeness and wholeness to the building that is striking as you round the corner out of Victory Ship Way and see it glistening there at the foot of Lonsdale Avenue. It's a building that creates a bigger visual footprint than its actual square footage, dominating the area and in a sense giving definition to structures that surround it. In a way not dissimilar to Herzog & de Meuron's Elbphilharmonie in Hamburg, the Patkaus' Polygon Gallery is an art object in itself, hovering above its own pedestal, in this case speaking with uncanny authority both to history and to the shifting organic environment around it.
Perhaps ironically, it is precisely that success that gives the design its most inherent and notable internal contradiction. The pedestal in this case is glass. And the interior walls of the main floor are painted white, so as to almost disappear upon first viewing. The effect is to create a detachment of the building from its own situation, physically raising it to occupy space above the plane of the square. For a backwards glance, this is a lofty one, which is not to say that it is insincere, only that there is a self-awareness in the structure that belies its bid to integrate with area history. That to which I refer is entirely gone, the gleaming structure seems to announce, a feeling enhanced on entering, standing in front of those archival photos of a North Vancouver that few of us can even remember.
Effective? Strikingly so, if visitor traffic is any indication. The place was packed on the Sunday that I visited. On the main floor, with its large, dedicated space for the gift shop, a planned restaurant should only draw more in. Nowhere was the gallery's intensity of focus more obvious, however, than on the outer decking upstairs. In a flourish that distinguishes the Polygon most strikingly from older-style art venues (such as, for example, the existing Vancouver Art Gallery), the exhibition space extends through glass doors to a wide south-facing deck that provides a sweeping view of downtown Vancouver. For a gallery, this is oddly anti-contemplative, drawing the eye away from the artwork and out towards the shining city view. It's also a feature that needs to be blacked out in order to display art works such as Jeremy Shaw's Best Minds, a brilliant video meditation on Straight Edge, the punk subculture. Overall, the architecture reflects a clash of missions in the space: Parts of it are perfectly attuned to the presentation of art, while others respond to the imperative of attendance, public engagement, a broader and more flexible idea of public coming-together than can be accomplished merely through curation.
And that, then, is the degree to which the Polygon succeeds in both occupying and defining the cultural intersection in question. Do we contemplate or consume art? Do our buildings reassure us or aspire beyond? In a region where affordability has receded to an abstract past, these questions are unanswerable. But this hovering, glistening building is to be commended for asking them.