Zahed Haftlang's Big Idea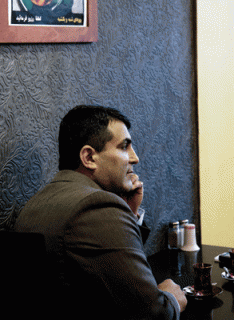 The first time I met Zahed Haftlang was over two years ago, in connection with an article I wrote for Vancouver Magazine called Blood Brothers. That story was one of hope and determination. An Iranian boy soldier during the Iran-Iraq War, Haftlang saved the life of an Iraqi soldier, Nadjah Aboud, on the battlefield. Twenty years later (begging language like "miraculous" and "only in the movies") Haftlang and Aboud met again in Vancouver. They'd both endured years of war, imprisonment, torture, and abuse. And that moment of recognition – both men waiting for counselling at the Vancouver Association for the Survivors of Torture, no less – became a friendship that lasts to this day.
As I wrote in Vancouver Magazine more recently, the double helix of the story is endlessly compelling. And the story has touched many, many people. I've been contacted countless times by people wanting to know more. And Haftlang himself has told me that people showed up at his place of work after the first article was published just to pose for pictures with him.
But it hasn't all been sunshine and happiness. It perhaps never is for refugees and survivors of torture. Both Haftlang and Aboud carry haunting memories. And Haftlang has struggled to stay employed. He lost his auto-mechanics business in 2012, and is still looking for a job at the moment I'm writing this post.
All that said, Haftlang also isn't a guy to give up easily. He's written a memoir with journalist Robert Matas that's looking for a publisher. He's also planning an incredible walk to the United Nations (yes, from Vancouver to New York City, by foot) to raise awareness of both his story and the world's urgent need to set aside war.
Some would say the idea is quixotic, romantic, idealistic. And it would certainly be easy to dismiss it in that fashion. Only it's worth bearing in mind that this is a man who has walked exceedingly long distances before. He crossed a good part of Northern Iraq by foot as a boy soldier. And after his release from Iraqi POW camp in 1990, he walked across Iran on his return home. He doesn't boast about any of this. In fact, when he tells me about those long walks, he shrugs and notes that the weather was good.
Walking to the UN would take over 100 days, and he's solicited the help of various people to help him. He has a website up now, called Step For Peace, although the donation parts of the site were still under construction at the time of writing. He's looking for sponsors now to help him finish these things and begin preparing. But he remains determined. And the last time I saw him, on Upper Lonsdale after lunch at a Persian restaurant there, he shook hands with a firmness that speaks to his commitment.
My hope for his future is that there are more "only in the movies" moments.And if you're reading this and can think of a way to help… please visit Step For Peace.